The New Year is almost here, and we know you want your New Year's Eve celebration to be one your guests remember well into 2023! There's no better way to elevate your NYE celebration than with stunning decor that adds some shimmer and sparkle to the evening! Here are our top picks for ringing in the New Year in style.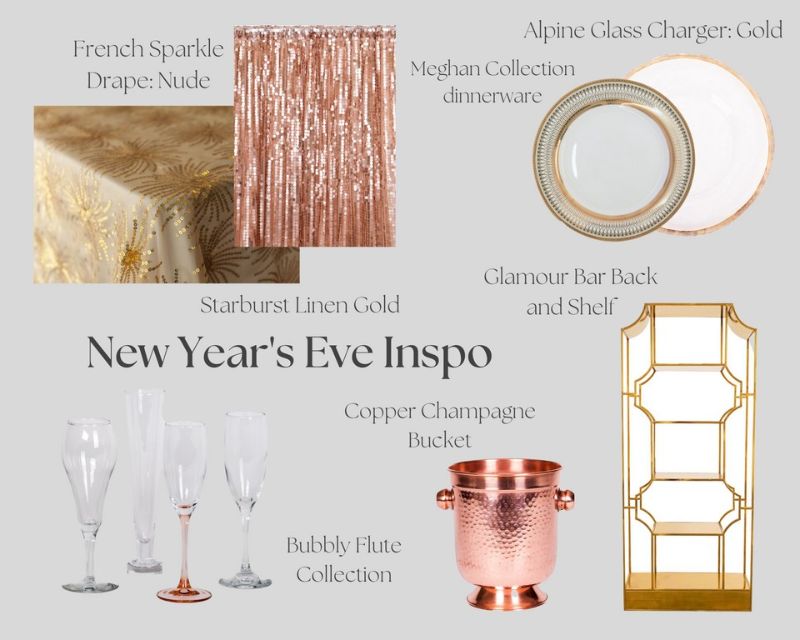 It wouldn't be a proper New Year's celebration without gold! But while gold is always elegant, we love pairing it with another color to add some pop, which is why we've added rose gold into our selections. The Starburst Linen in Gold is perfect for the holiday, especially since its starburst design mimics the fireworks that will be lighting up the night sky on December 31! Pair this with our stunning French Sparkle Drape in Nude to bring in even more sparkle. If you'll be hosting a sit-down dinner, we recommend our timeless Alpine Glass Charger in Gold, coupled with our Meghan Collection dinnerware. We love the understated elegance of this duo!
And of course, New Year's Eve is all about the bubbly! Keep your champagne chilled in style with our Copper Champagne Bucket, which perfectly adds to the rose gold accents. Add our Bubbly Flute Collection to our Glamour Bar Back and Shelf, and you're set for an absolutely unforgettable evening.
We have everything you need to bring your New Year's Eve celebration to the next level, so give us a call and book an appointment at our showroom to make your selections. Contact us at (405) 751-3100 or click here!