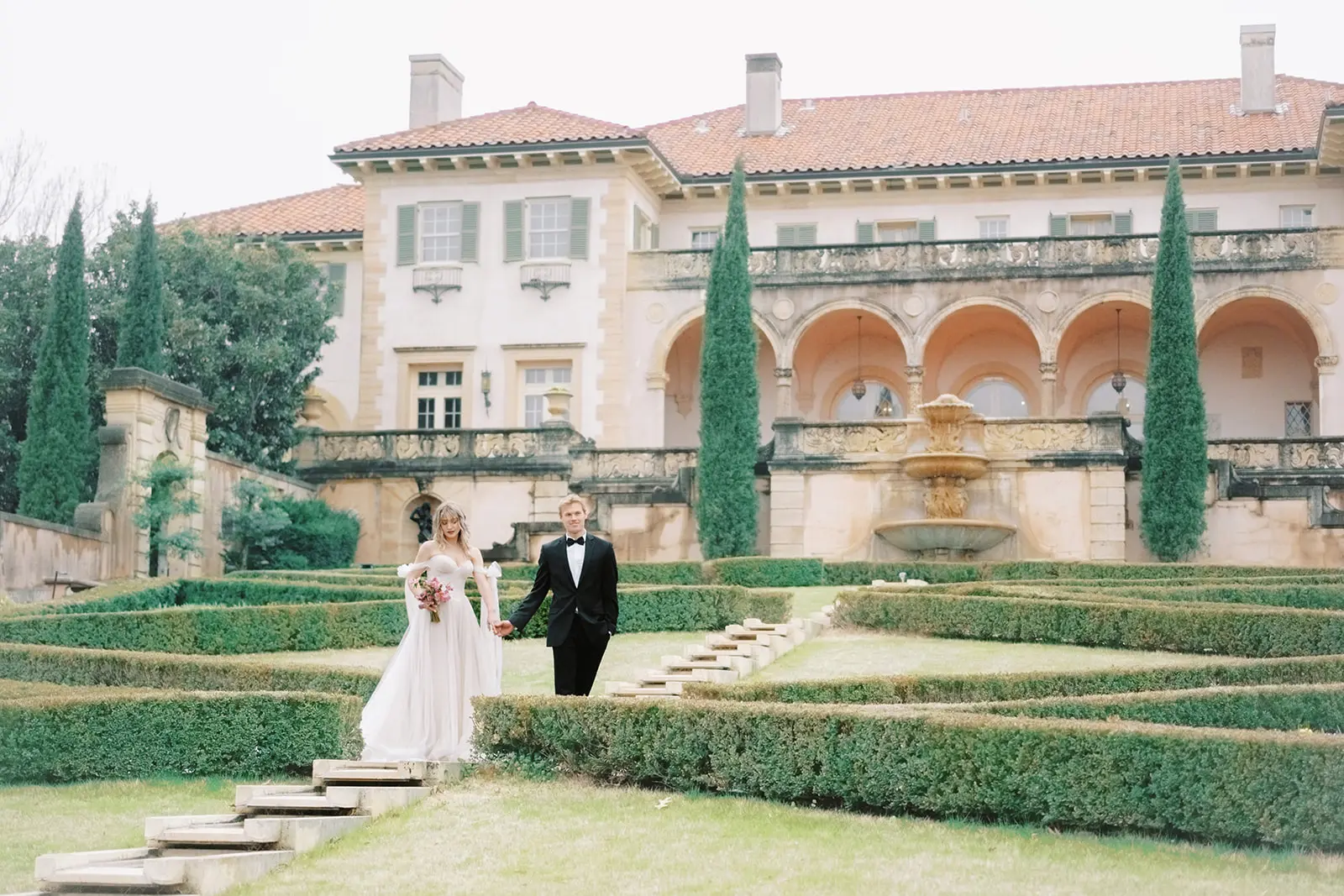 Photo // Claire Reyser Photography
Come with us as we transport you straight to the rolling Tuscan countryside with this lovely and whimsical styled shoot at the Philbrook Museum of Art in Tulsa! With jaw-dropping architecture, picturesque Cypress trees, and sprawling greenery, the Philbrook provided the perfect backdrop for a styled shoot ceremony and tented reception, planned and designed by Aisle Be With You Weddings. With scenery so stunning, a tent was the perfect vessel to truly take advantage of the Italian renaissance villa vibes of the Philbrook. Keep reading to see all of our favorite rentals from this styled shoot!
A Picture-Perfect Tent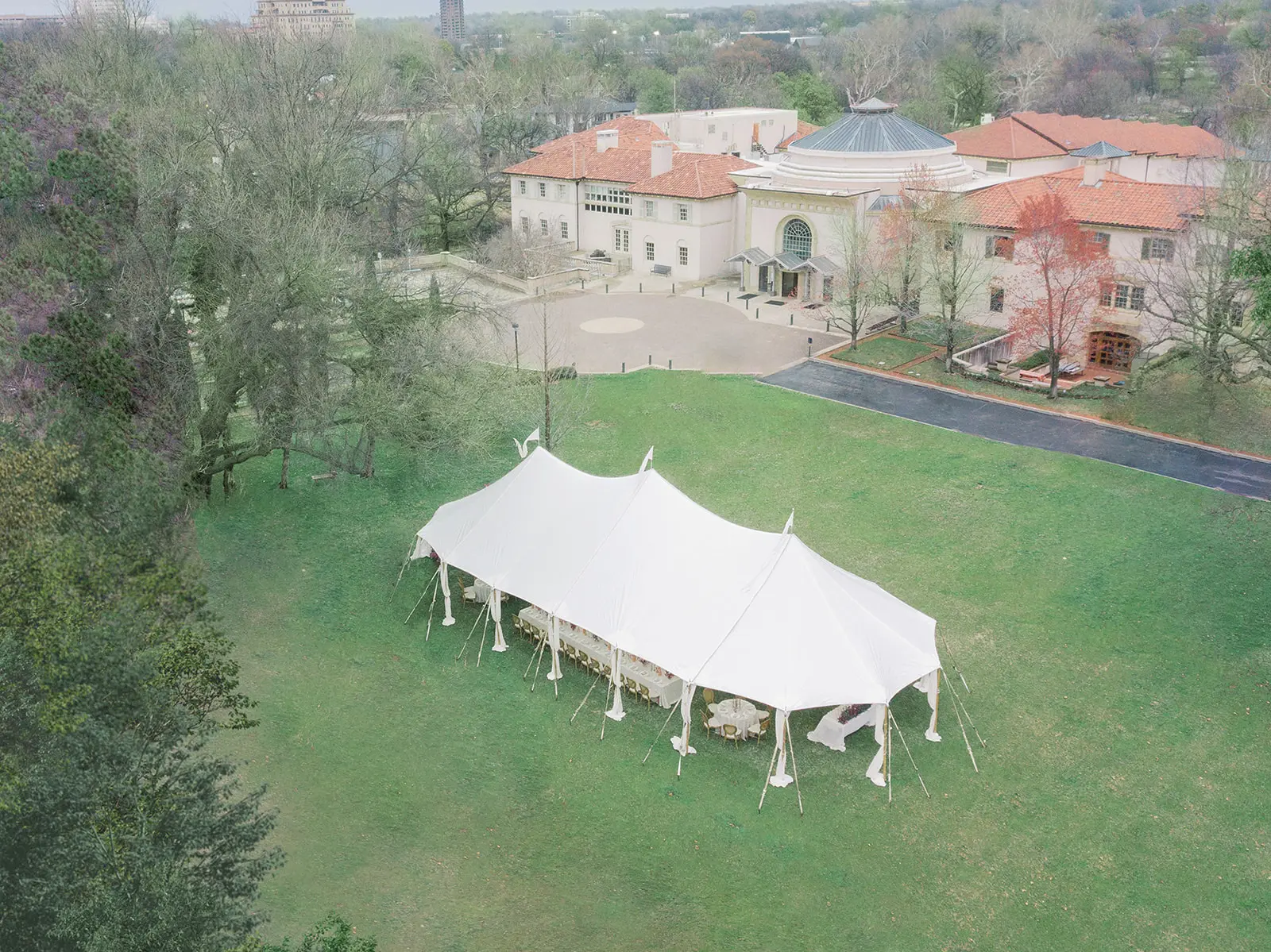 Photo // Claire Reyser Photography
The Philbrook's flourishing green grounds were the perfect spot for a tent, and for this particular styled shoot, we opted for the Tidewater Sailcloth Tent. This luxurious high peak tent features rounded ends, a sailcloth fabric roof, and wooden supports.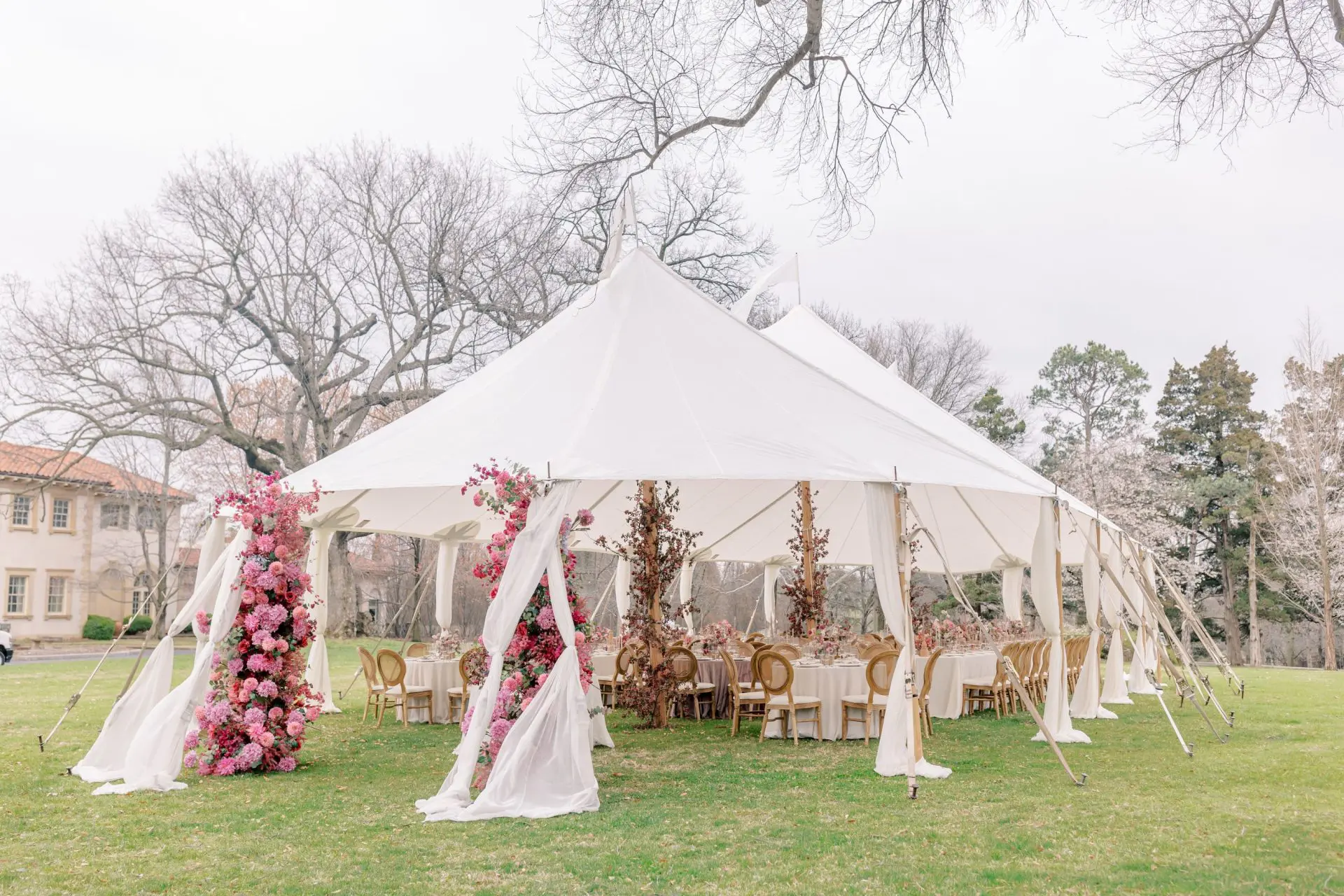 Photo // Emily Nicole Photo & Films
The Tidewate's beautifully sculpted peaks and eaves create the most stunning effect and provide the perfect amount of open air space. Explore the Tidewater Sailcloth Tent here!
A Stunning Layout
Photo // Emily Nicole Photo & Films
Planning a tented event's layout is so important, and the floor plan for this event was truly spectacular. The layout for this Philbrook Museum styled shoot featured the perfect mixture of banquet-style seating coupled with our 48" round tables. Our Queen Tables, which seat 8-10 guests, featured our gorgeous Amiri Sheer Linen in Natural, while the rounds featured the stunning Velvet Linen in Mauve. Reception seating was perfected by our Elizabeth Chair: Wood Caneback. We also love how the florals wrapped mid-way up the Tidewater Tent's wooden supports, adding to the overall whimsical feel of the shoot.
Delicate Details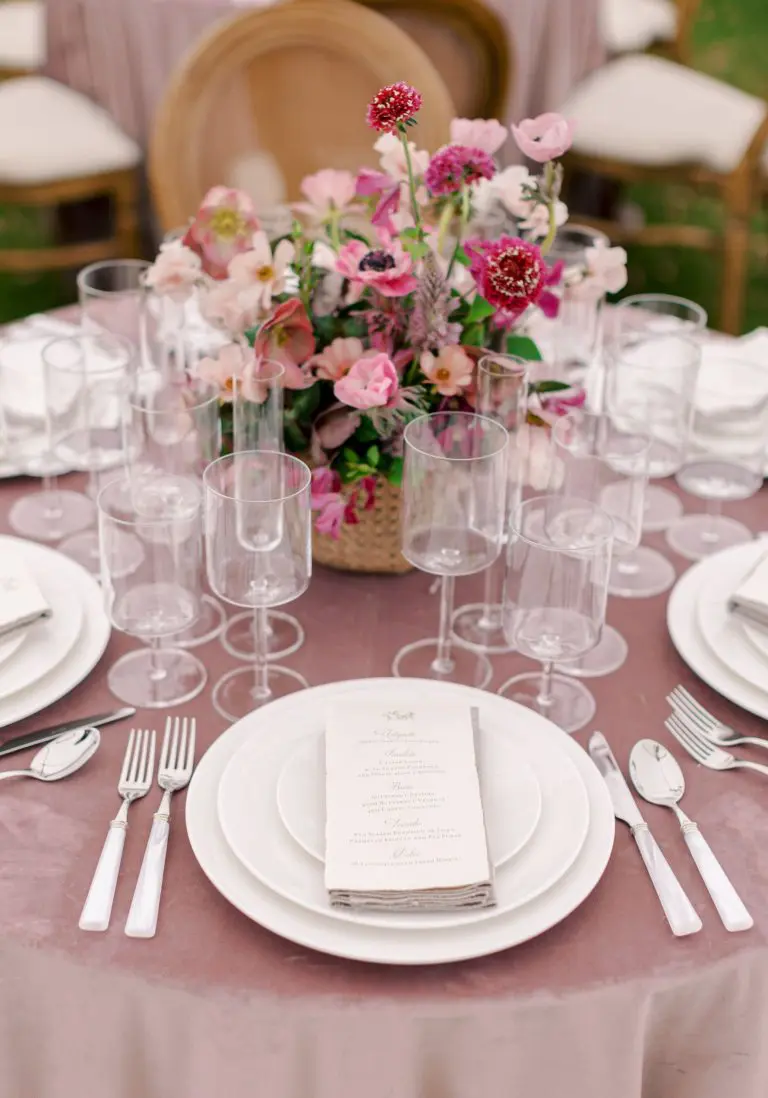 Photo // Emily Nicole Photo & Films
We adore all of the dainty and delicate details from this styled shoot at the Philbrook! The place settings came together beautifully with our Pond Dinnerware Collection, Pearl White Flatware Collection, and our strikingly modern Valo Glassware Collection.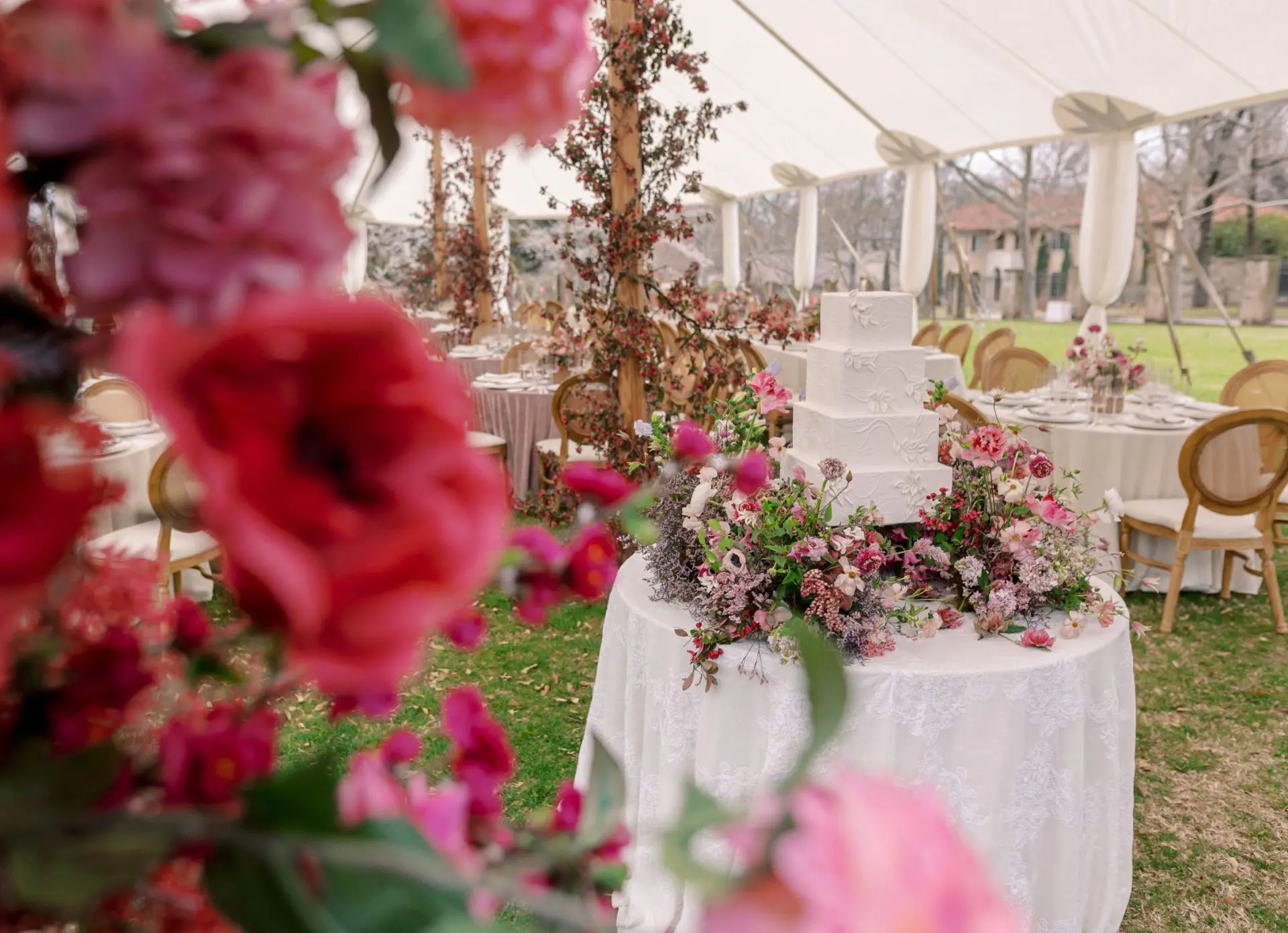 Photo // Emily Nicole Photo & Films
One of our favorite details was the way the floral details of the stunning ivory cake by Amy Cakes mimicked the Kendall Sheer Linen of the cake table!
We were so honored to be a part of such an incredible team of vendors to help bring this Philbrook Museum styled shoot together! Find more wedding and event inspo on our blog here!
Vendors
Planning & Design: @aislebewithyouweddings
Floral: @maxowensdesign
Venue: @philbrookmuseum
Tent, Linens, Reception Chairs, Tabletop Rentals: @mariannesrentals
Stationery & Paper Details: @southernfriedpaper
Cake: @amycakes7
Hair & Makeup: @chelseyannartistry
Videography/BTS: @penweddings
Gown: @stanleykorshakbride @galialahav
Dress Designer: @sarehnouri
Models: @brinkmodels