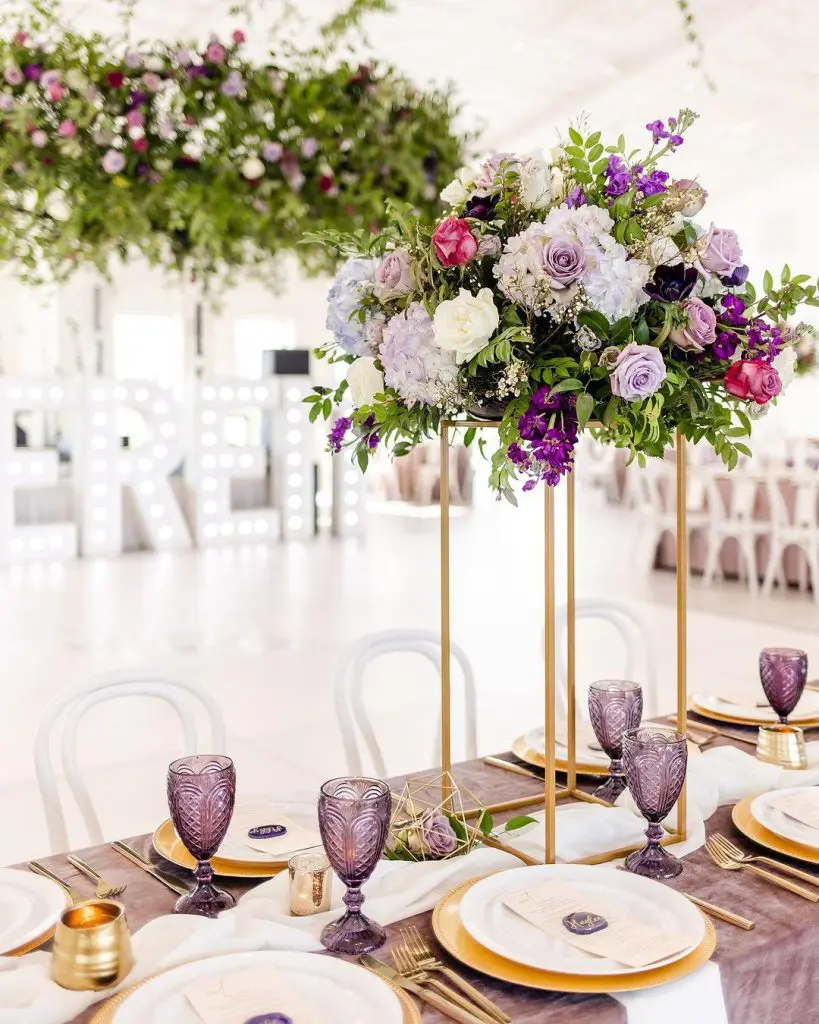 Photo: Terri Graves Photography
Your wedding is a celebration of love, and what better way to express that love than through the vibrant language of color? From enchanting pastels to bold, dynamic hues, colors have the power to evoke emotions, set the mood, and create a memorable experience for you and your guests. Whether you're planning an intimate gathering or a grand affair, infusing color into your wedding decor can elevate the entire ambiance and make your special day truly unforgettable.
With that said, utilizing color in your wedding design can be overwhelming. Keep reading to see our tips for incorporating color into your wedding decor!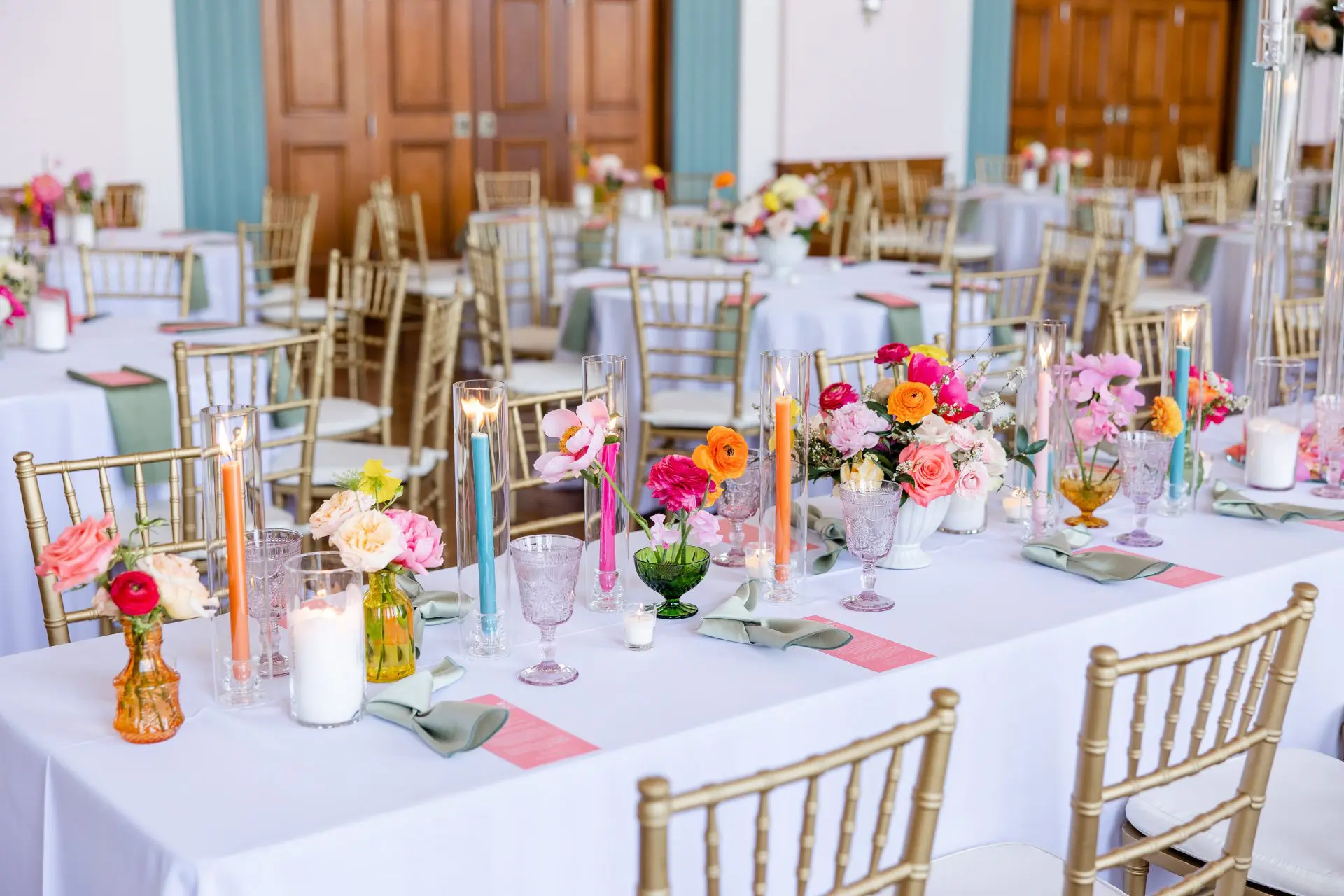 Photo: Terri Graves Photography
Choose A Color Palette
The first step in incorporating color into your wedding decor is selecting a cohesive color palette. A great starting point is to consider your personal preferences, the season, and the overall theme of your wedding. To finalize your color palette, select two or three harmonious main colors and complement them with a few accent shades. If you're in need of inspiration, browse our blog and Instagram to help you discover the perfect combination of colors that reflects your style and vision.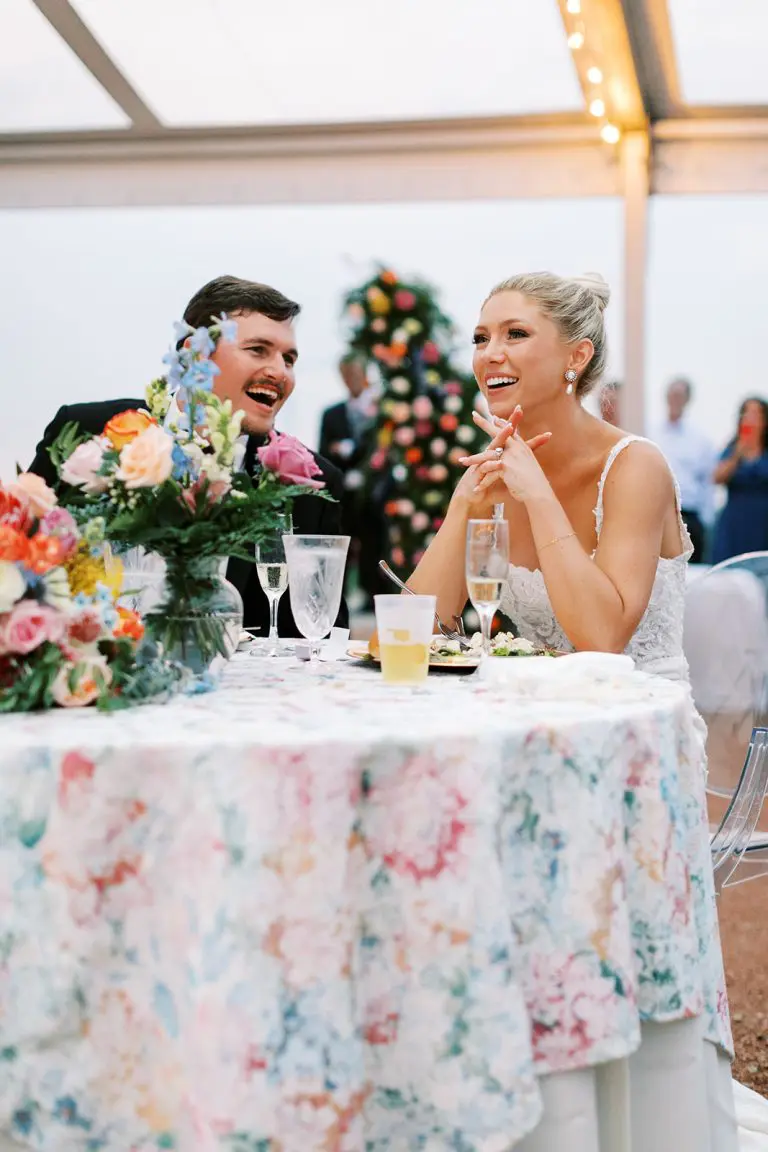 Photo: Aubrey Marie Photography
Table Settings & Linens
Your table settings are a huge piece of your wedding reception, so they are a great place to start when it comes to implementing your color palette! Play with your table linens by selecting napkins, tablecloths, and table runners that coordinate with your color palette, making sure to incorporate a few neutral tones as well. We also love using colorful glassware and dinnerware to add the perfect pops of color to any place setting! View all of our table top rentals here.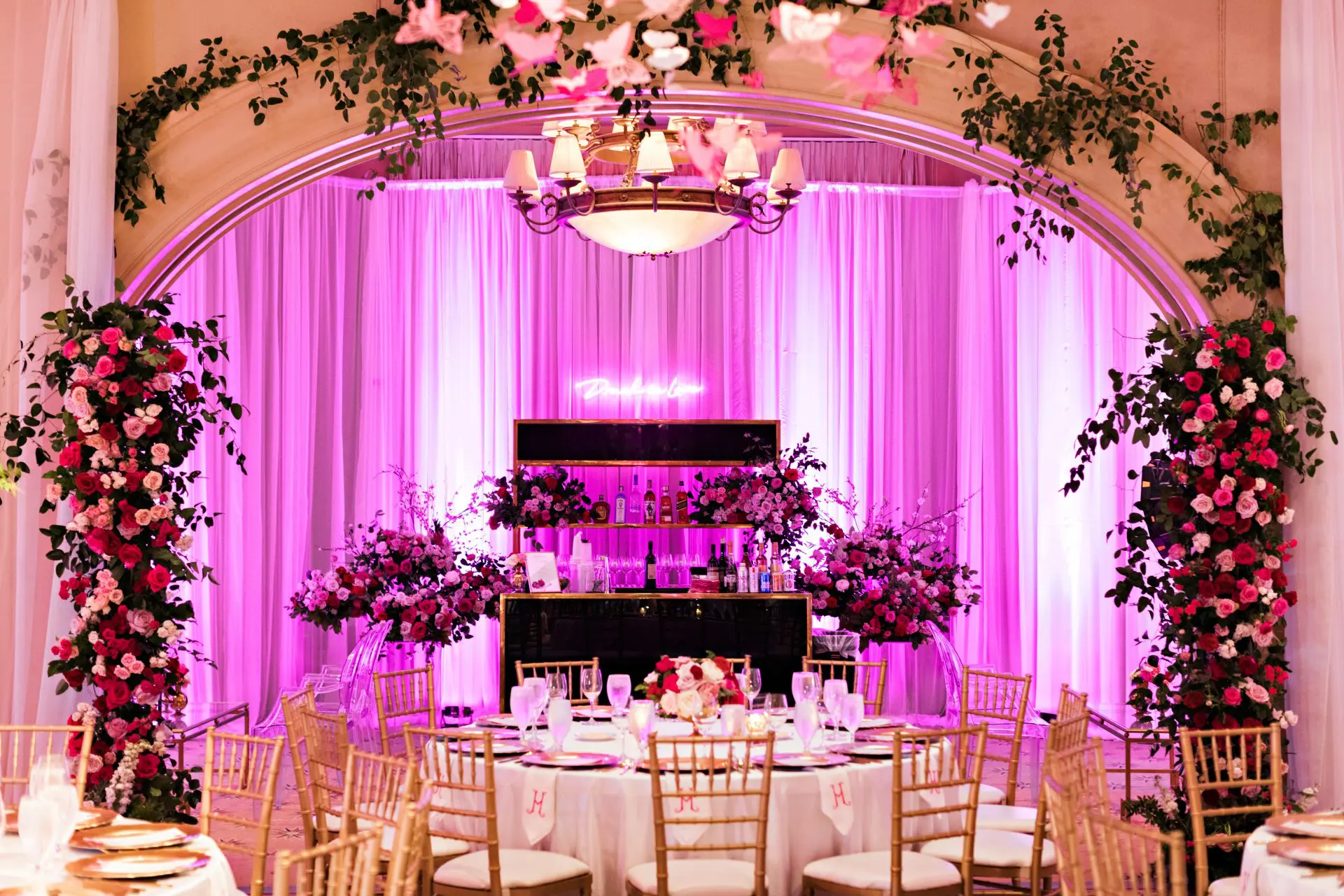 Photo: Kristen Edwards Photography
Creative Lighting
Lighting can dramatically transform the ambiance of your wedding venue. Incorporate colored lighting, such as string lights, fairy lights, or uplighting, to wash the space in your chosen colors. Soft, warm hues can create a romantic and intimate atmosphere, while bold and bright lighting can add an element of excitement to the celebration.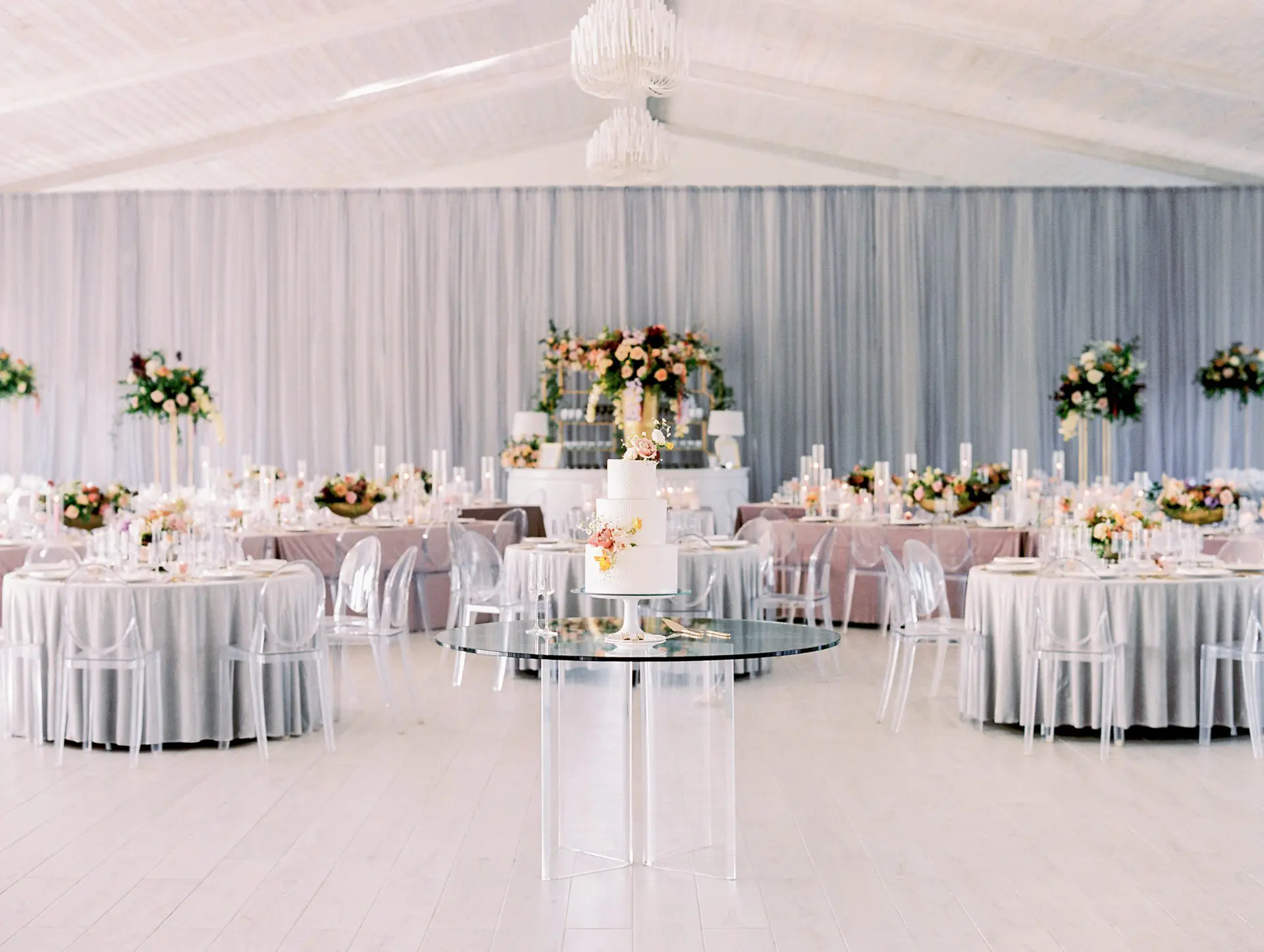 Photo: Erin Wilson Photography
Colorful Drapery & Backdrops
Elevate the aesthetic appeal of your venue with colorful drapery and backdrops. Drapery provides the perfect opportunity to use flowing fabrics in your chosen palette to create a dreamy and ethereal atmosphere. Plus, it's also an ideal way to transform any ballroom or wedding venue to fit your exact palette and aesthetic. You can also explore our backdrops and utilize them in a variety of ways, from photo backdrops to seating charts! To coordinate a seating chart with your color palette, opt for a neutral black or white backdrop and use colorful escort cards in your chosen color scheme.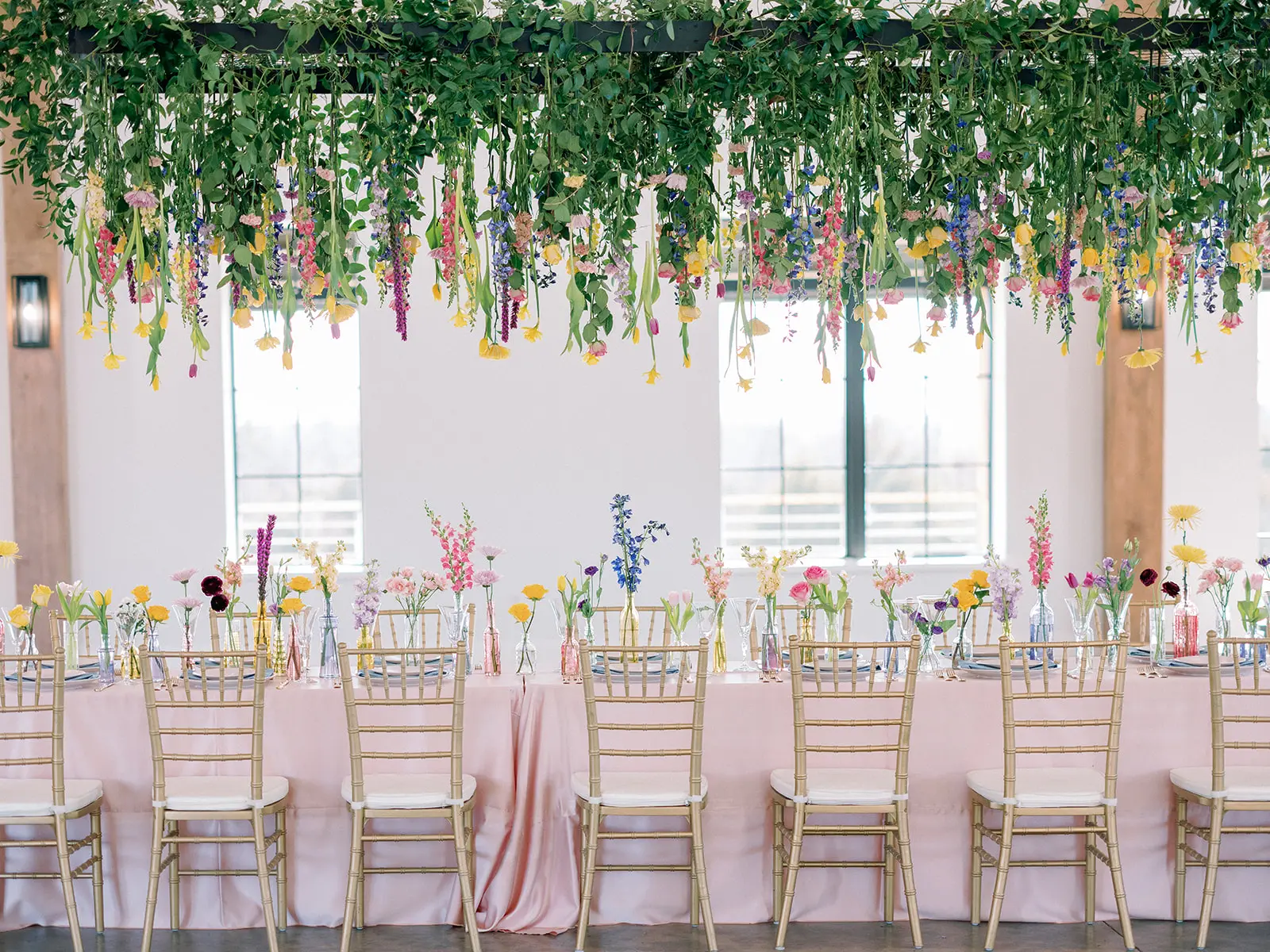 Photo: DV&Co
Additional Decorative Elements
There are so many additional decorative elements to explore when it comes to sprucing up your wedding ceremony or reception space! From candelabras to table lamps to vases, there are abundant opportunities to coordinate your wedding rentals and decor with your florals to bring your color palette to life!
Planning your 2023 or 2024 event? Request an appointment at our showroom to chat with a member of our team and secure your rental items!