Are you planning a fall wedding? With crisp weather and picturesque foliage, Oklahoma is the perfect place to host an autumnal celebration! Typically defined by rich hues and a moody atmosphere, fall weddings often feel cozy, intimate, and atmospheric, ideal for celebrating your love. If you're looking to host the ultimate fall wedding, keep reading to see our top picks and inspiration for your decor!
Statement Linen: Velveteen Linen in Copper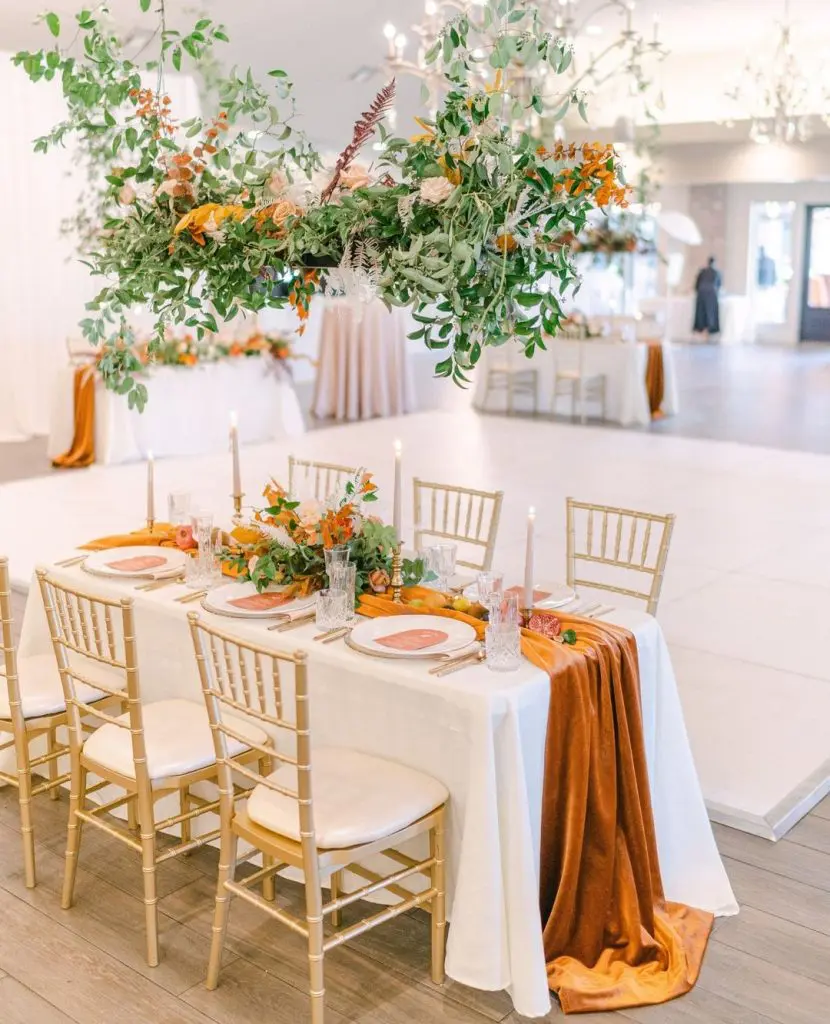 Photo: Amanda Watson Photo
When it comes to fall weddings, one color palette we often see is rich orange and rust tones. Mimicking the gorgeous fall foliage, this palette is perfect for the season, especially when accompanied by burgundies, browns, and greens. A perfect way to complement your neutral-toned table linens is by selecting a statement linen, which can serve as a table runner, head table linen, or accent table linen. We adore our Velveteen Linen in Copper, which not only has a rich orange hue, but a luxurious texture as well!
Place Settings: Orizzonte Chargers + Arezzo Gold Flatware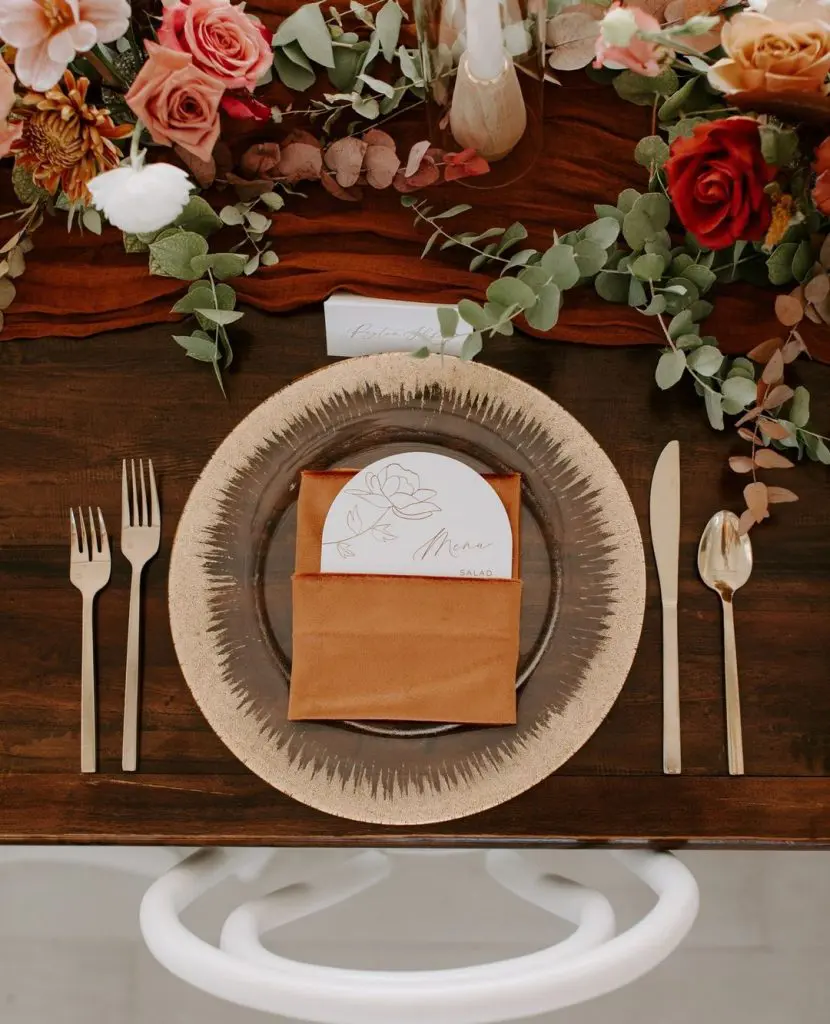 Photo: Kayley Haulmark
Gold is the perfect complement to any autumnal color palette, adding to the richness of fall colors. When it comes to your place settings, we have a wide selection of gold chargers, but one of our absolute favorites is our Glass Charger Orizzonte in Gold! With a stunning gold rimmed pattern, this statement charger is ideal for adding an extra pop of personality to your place settings. Wondering which flatware to pair it with? You can't go wrong with our ever-popular Arezzo Gold Flatware!
Glassware: Carousel Glass in Amber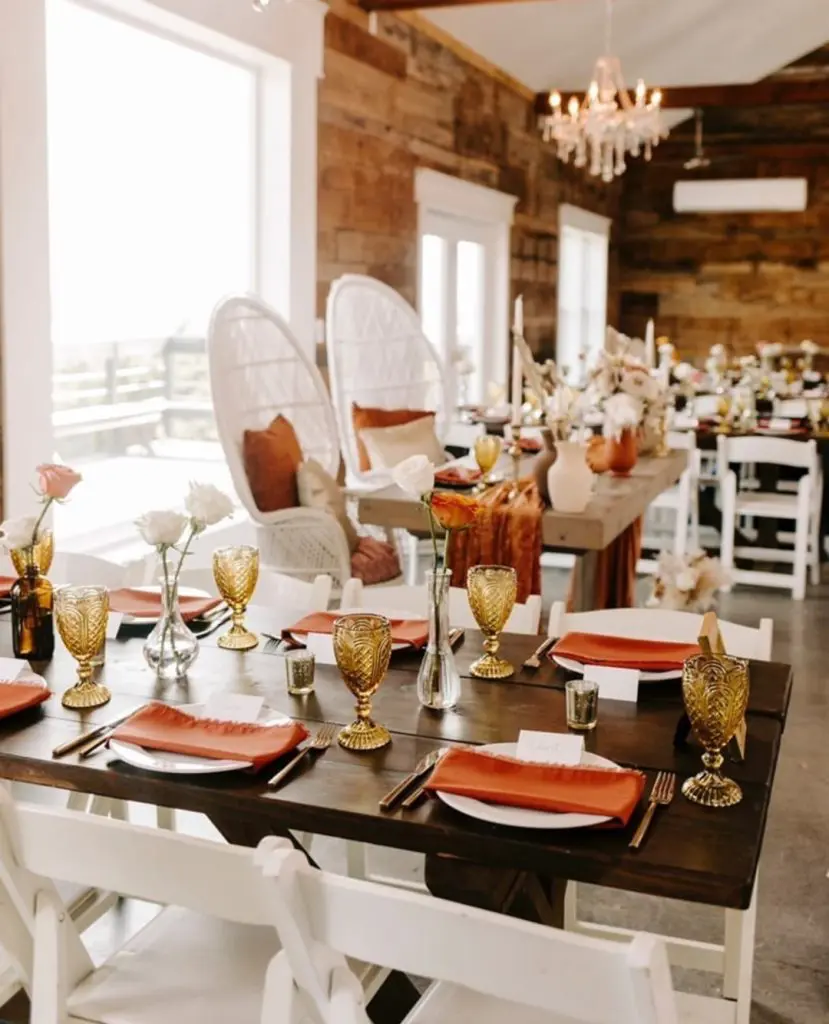 Photo: Juliana Rose Photography
Glassware is one of our favorite ways to dress up your place settings, and when it comes to fall weddings, our Carousel Glass in Amber is absolutely perfect! This goblet not only complements the velvety autumn colors with its amber hue, but its intricate, elegant design can instantly elevate your reception tables.
Table Decor: Olivia Gold Table Lamp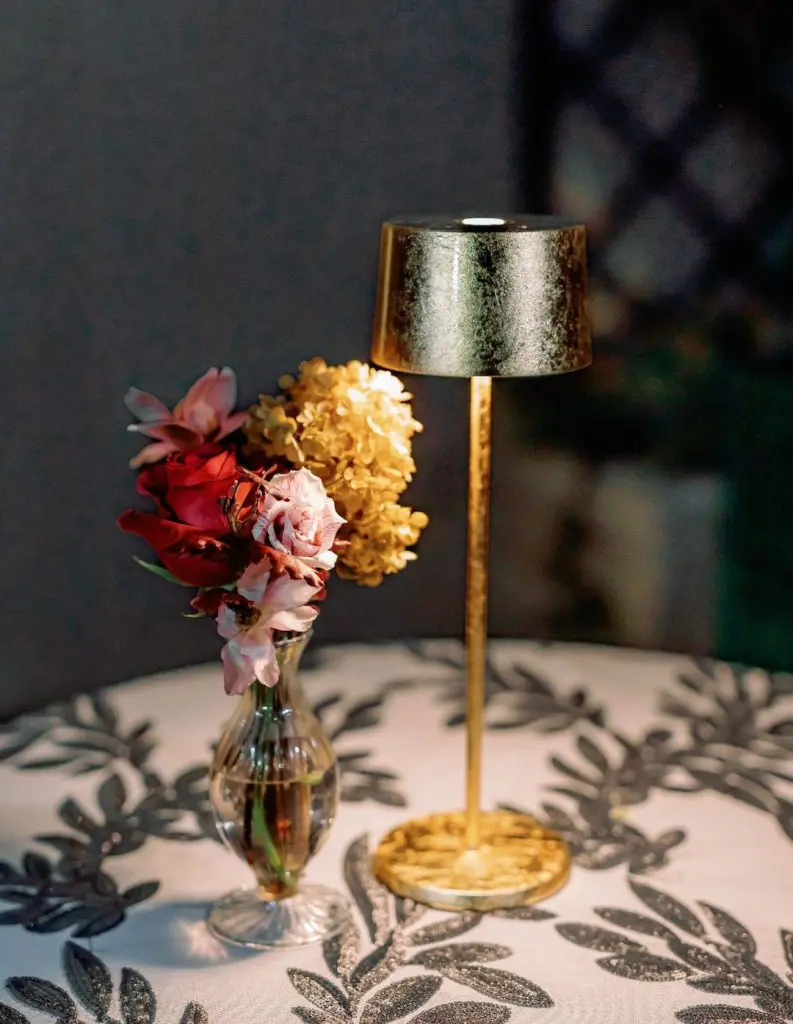 Photo: Kelsey Lanae Photography
Looking for the perfect decor piece to add to your tablescapes? We're obsessed with our Olivia Gold Table Lamp! Adding accent lighting to your tables can change the entire feel of your reception, creating a cozy, intimate atmosphere for your guests. Plus, these adorable lamps can be used in other spaces, like your bar, cocktail hour bistro tables, dessert display, and more!
Lounge Seating: Magnolia Vintage Settee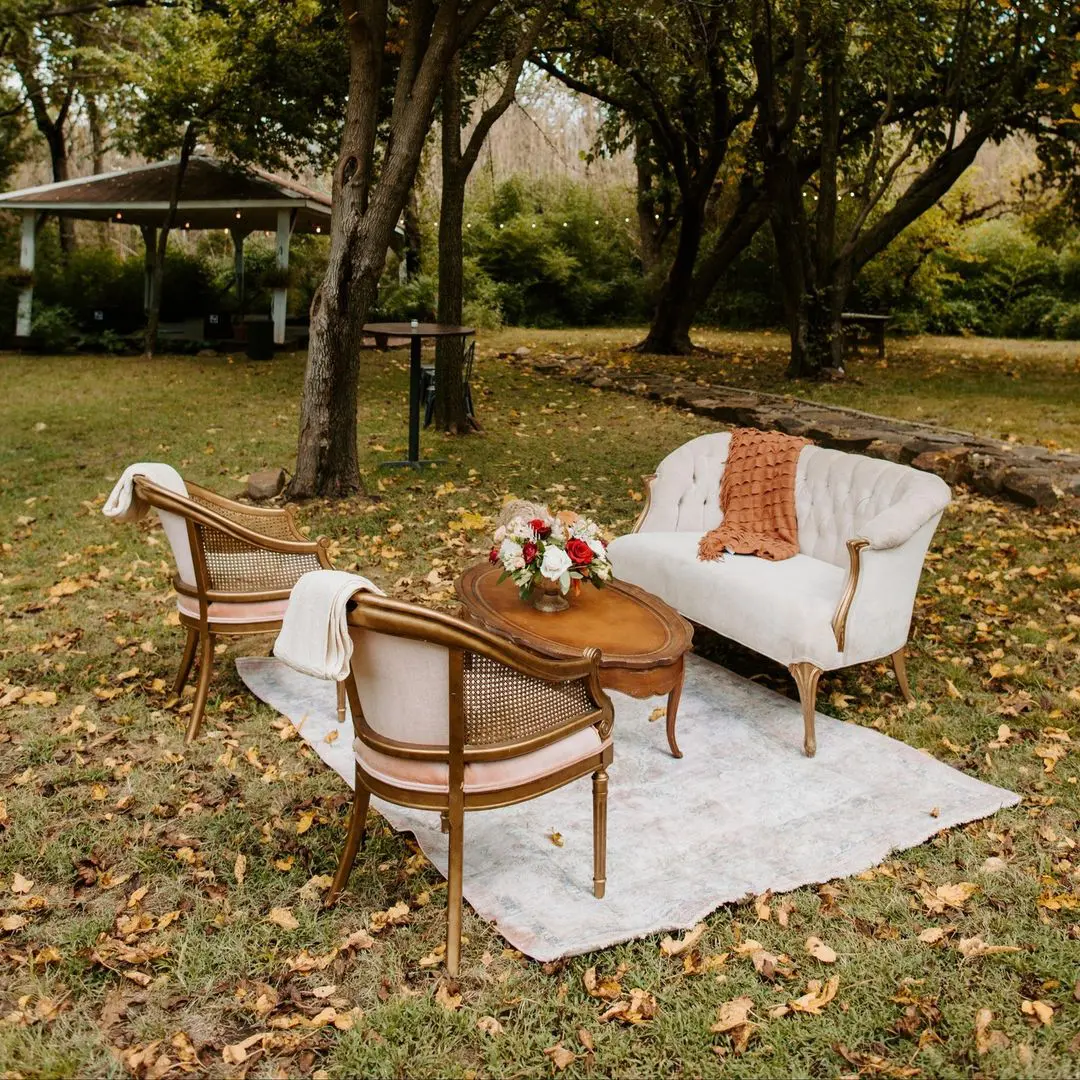 Photo: Living Roots Photography
With so much color in your florals and decor, our top fall pick for lounge seating is our off white Magnolia Vintage Settee. Providing the perfect warm neutral tone, this settee is absolutely stunning, especially with its gold accents. Add a coffee table, rug, and set of chairs to complete the look!
Are you ready to start planning your next event? Browse our full rental gallery, gain more inspiration, or make an appointment at our showroom. Happy fall!